***This item may have an extended lead time! Please contact us for more information!***
Description
The Solar Development Kit with e-peas PMIC and CAP-XX Supercapacitors (DEV-EPEAS-CAPXX) makes integrating solar into electronics simple. It includes an e-peas AEM10941 high-performance energy harvesting PMIC, PowerFilm's thin-film indoor and outdoor solar panels, and CAP-XX thin prismatic supercapacitors.
The AEM10941 efficiently extracts energy from the solar modules, which can be stored in a rechargeable element while also providing two independent regulated voltages to power IoT devices. The integrated power management supports multiple storage element charge configurations, including, Li-Po, Li-ion, LiFePO4, Solid State, and Single/Double cell supercapacitors. Configurations are easily selected by moving pin jumpers to desired positions.
Use Indoor Light series panels for indoor applications and use Classic Application panels for outdoor environments. Solder on the Cap-XX devices to run your IoT device without battery. 
See the Quick Start Guide for details on configuring storage element type and other board options.
Kit Contents
Dev Kit PCBA

(2) MPT2.4-21 Solar Panel with leads

(2) LL200-2.4-37 Indoor Solar Panel with leads(1)

(1) DMT3N4R2U224M3DTA0 4.2V, 220mF, 21 x 14 x 2.2 mm

(1) DMF3Z5R5H474M3DTA0 5.5V, 470mF, 21 x 14 x 3.2 mm

60mAh rechargeable Li-Polymer battery

Instructions and product documentation
Resources
PowerFilm DEV-EPEAS-CAPXX Quick Start Guide
PowerFilm DEV-EPEAS-CAPXX User Guide
Panel Specifications
Indoor Series      
LL200-2.4-37
1000 lux:
200 lux:
Classic Application
MPT2.4-21
100% Sun
25% Sun
System Diagram
Board Layout
Use Cases - Power Sources For
BLE Beacons and Tags

E-Paper Displays

Telematics

Smart Locks

Thermostats

Smart Windows and Shades

Wireless Sensors

Wearables

Field and Herd Monitoring

Other Low Power Electronics
Features
Energy Harvester and Power Management
Cold start at 3μW 380mV

Global quiescent current of 400nA

MPPT ratio configured to 70%

Storage element voltage protection

Primary battery with minimum voltage protection

Two LDO power output rails with enable pins

Dual cell supercapacitor balancing circuit

Internal boost converter (up to 95%): 50mV to 5V
Cap-XX Supercapacitors
DMT3N4R2U224M3DTA0 4.2V, 220mF, 21 x 14 x 2.2 mm, -40 to 85°C, ESR 300mΩ
DMF3Z5R5H474M3DTA0 5.5V, 470mF, 21 x 14 x 3.2 mm, -40 to 70°C, ESR 45mΩ
High power output for peak current loads (low ESR)
Sufficient energy storage to handle power surges (high capacitance)
Wide operating temperature range (-40°C – +85°C)

Connectors
Screw connector for PowerFilm PV cell

Screw connector for storage element

Multiple PCB footprints for supercapacitors

Screw connector for primary battery

Screw connector for HVOUT LDO output (80mA)
Configuration
CFG selection jumpers for storage element type

Resistors footprints for custom mode

Jumpers for output enable/disable

Jumpers for primary battery option

Jumper for supercapacitor cell balancing circuit enable
Size
58 mm x 49 mm
4 x M 2 5 Mounting holes
IV Curves
Indoor Series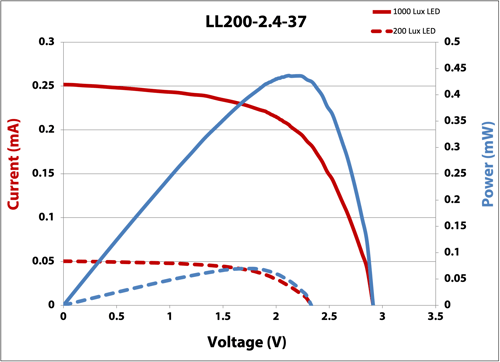 Classic Application
Notes
Harvesting indoor light with the paired LL200-2.4-37 panel provides approximately 80μW in a low light luminosity (200 lux). After eight hours of exposure, the AEM10941 harvester will collect about 1.8 J of energy.
Harvesting outdoor light with the paired MPT2.4-21 panel provides approximately 6.8mW under indirect or ambient sunlight (25% of direct sunlight). After eight hours of exposure, the AEM10941 harvester will collect about 156 J of energy.
AEM10941 Efficiency